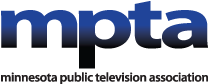 Minnesota's Legacy Amendment
In 2008, Minnesota's voters passed the Clean Water, Land and Legacy Amendment (Legacy Amendment) to the Minnesota Constitution to: protect drinking water sources; to protect, enhance, and restore wetlands, prairies, forests, and fish, game, and wildlife habitat; to preserve arts and cultural heritage; to support parks and trails; and to protect, enhance, and restore lakes, rivers, streams, and groundwater. Read more about the Legacy Amendment.
Minnesota Legacy Impact
The MPTA responds to Covid-19
A look at how the Minnesota Public Television Association responded to the COVID-19 pandemic: MPTA and Covid-19
The Impact of Legacy-funded Media
Legacy-funded media created by the MPTA is a valuable resource to promote the work of Minnesota artists and arts organizations and to document our State's arts, culture and history for future generations.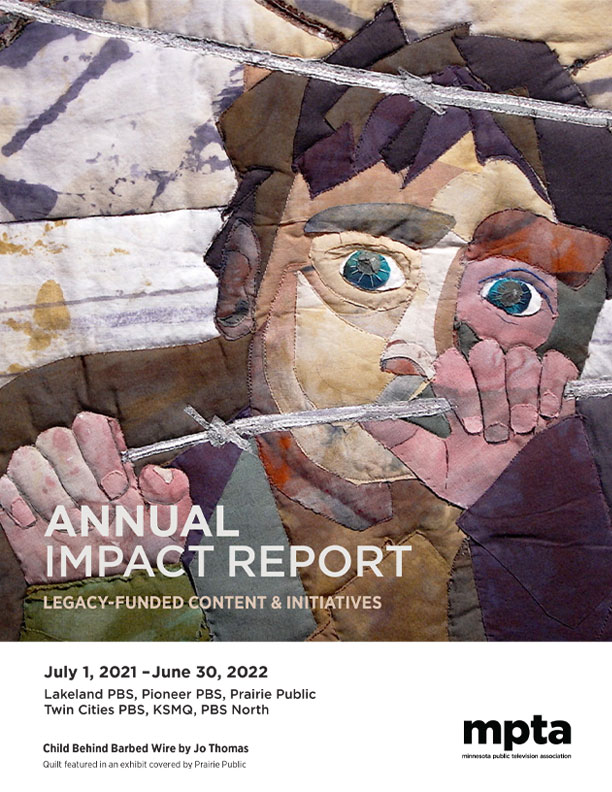 MPTA Annual Report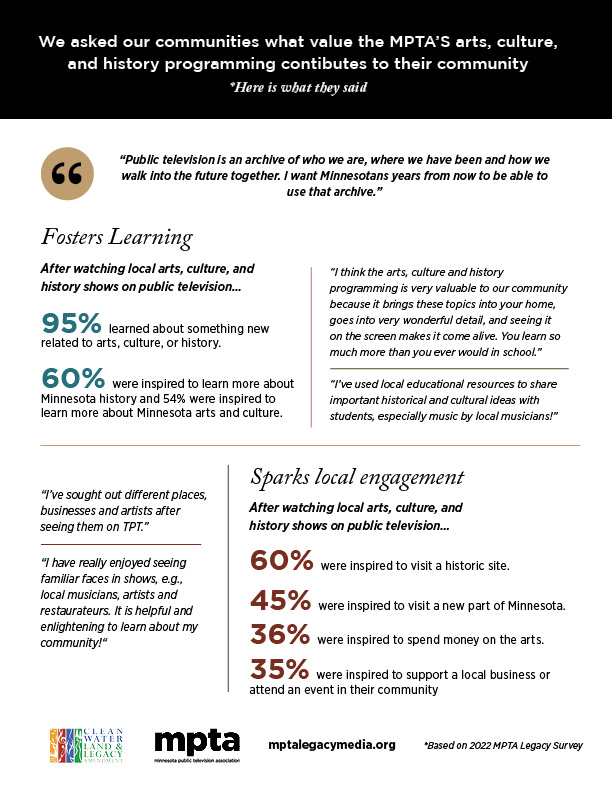 MPTA Highlights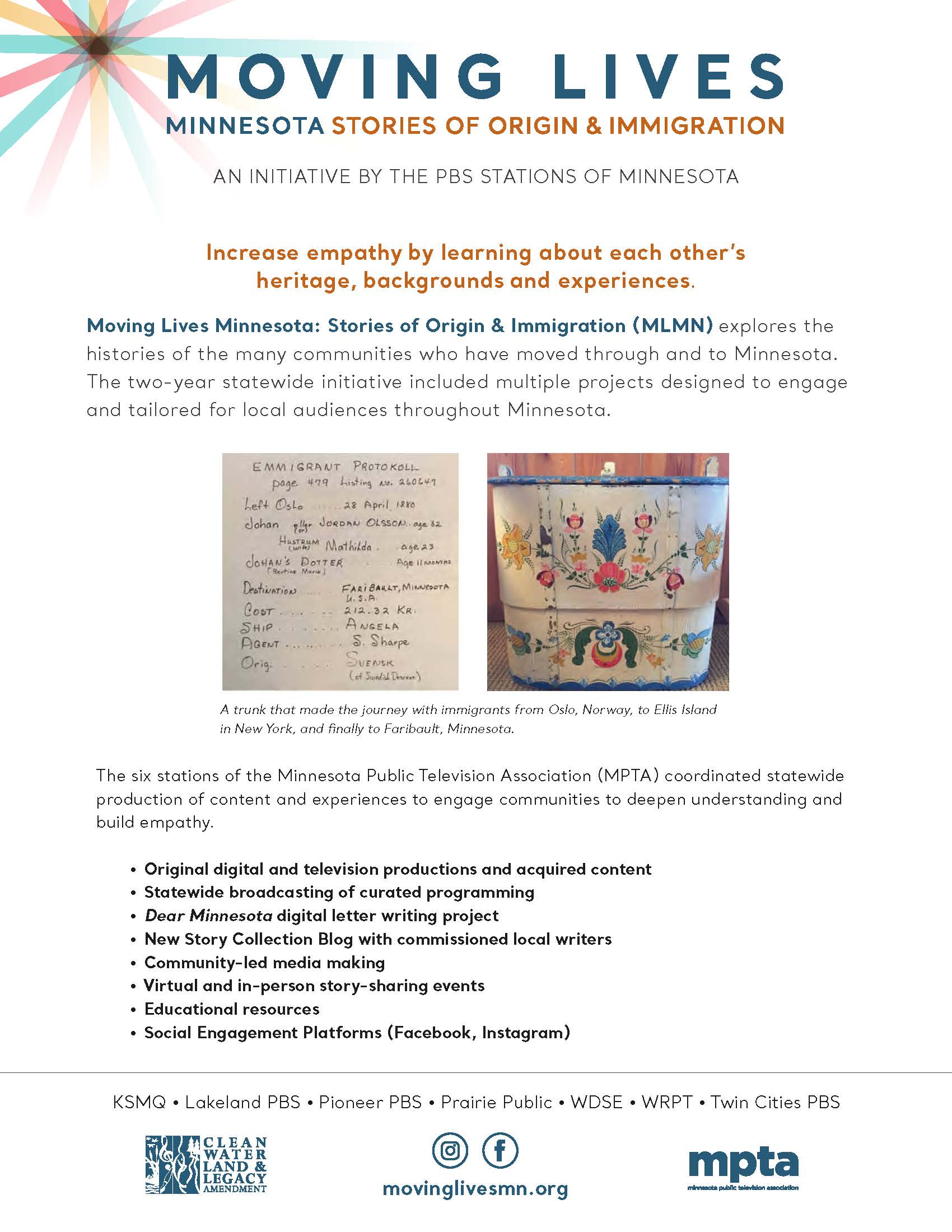 Moving Lives MN Report
Moving Lives Minnesota
The MPTA and the Legacy Amendment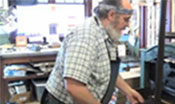 The Minnesota Public Television Association (MPTA) consists of the six public television stations within the state: KSMQ-TV, Lakeland PBS, Pioneer PBS, Prairie Public, Twin Cities Public Television and PBS North.
With Legacy funds, each station of the MPTA produces an arts and cultural series, specials and cultural-historical documentaries. Legacy-funded media is broadcast across all stations, making each station's reach statewide. MPTA Legacy-funded media is available online. Many of the MPTA's Legacy-funded programs have corresponding activity guides designed by and for educators.
MPTA Stations and their Work
Click the blue dots for station information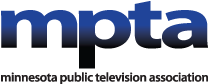 The Minnesota Public Television Association (MPTA) is a statewide association made up of Minnesota's six independent public television stations.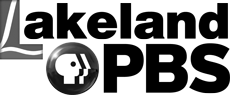 Lakeland PBS, Bemidji/Brainerd
Lakeland PBS is the only television station serving its entire broadcast service area in northern and central Minnesota with local television programming, including its weeknight newscast, Lakeland News.
Lakeland PBS reaches 490,365 individuals over an estimated 7,500 square miles in northern and central Minnesota via its free over-the-air broadcast signal and via cable, satellite, and streaming TV delivery. In addition, with the support of the Minnesota Arts & Cultural Heritage Fund, Lakeland PBS is proud to be preserving and telling the stories about the region's rich arts, history, and culture.

PBS North
Duluth/Superior/Iron Range
PBS North produces programs that serve and celebrate the culture of the 491,000 people who proudly call the woods, waters and vibrant communities of the north their home. In addition to national, regional, and local programming that fosters important discussion and education for all ages, we provide media services and digital access through our website.

Prairie Public, Moorhead/Crookston
Prairie Public is a trusted public service dedicated to building an exciting and productive future for the prairie and its people. Prairie Public offers a window on the world through national and regional television and radio programming; creates a forum for the most important issues facing our region with locally produced, topical documentaries; partners with others to foster education for all ages; and utilizes digital technology and Web services to expand those valued services. With Legacy funding, Prairie Public is also maintaining its commitment in providing educational services to 97 school districts serving 67,000 students in NW Minnesota.

Twin Cities PBS, Minneapolis/St. Paul
Twin Cities PBS (TPT) reaches millions of people, through broadcasts to Minnesota and western Wisconsin, through programs produced for PBS audiences nationally and through web-based content seen by people around the world. More than one million local viewers tune-in to TPT each month.
Through broadcast, cable and satellite, TPT 2 is received by more than 70% of Minnesota residents and roughly 5% of those in Wisconsin.

Pioneer PBS, Appleton/Worthington/Fergus Falls
Pioneer PBS, based in Appleton, Minnesota is dedicated to programs that educate and sustain our rural communities through services that reflect our local values.
For over 55 years, Pioneer PBS has served its rural audience through a mix of local and national programs rich in cultural heritage, diversity and educational opportunities.

KSMQ-TV, Austin/Rochester
KSMQ is southern Minnesota and northern Iowa's local public television station featuring award-winning local programming, PBS favorites and a unique blend of nationally produced programs.
More Resources
MPTA Work and Impact | MPTA Annual Report | More info about the Legacy Amendment